It's a new year, a new decade, a new you! Still the same us though. And as is tradition we'll be kicking the year off with our two January staples to ease you into the new decade, from 8th-11th January we've got the annual FIKA Recordings indie-pop Winter Sprinter whilst from 13th-17th January purveyors of the finest new music, The Line of Best Fit, will be setting out their stall of the year with 16 of the hottest new bands for 2020. As usual it's 20% off food with your advance gig tickets and happy hour 5-8pm!
---
FIKA Recordings Winter Sprinter
12 indiepop bands across 12 nights to ease you in to 2020
Wednesday 8th January – HOLLY MACVE + THE HANGING STARS + PORTLAND BROTHERS
Thursday 9th January – MAMMOTH PENGUINS + BROKEN CHANTER + ADULTS
Friday 10th January – THE JUST JOANS + SEAZOO + FORTITUDE VALLEY
Saturday 11th January – THE BALLET + KEEL HER + MR BEN & THE BENS
Tickets for individual nights and 4-day passes available from WeGotTickets only.
wegottickets.com/fikarecordings
---
Jim Jones & The Righteous Mind
+ Bone Xeno (Matinee only) + Daemonik Fonce (Evening only)
Sunday 12th January
Bring the kids along for our first matinee of the year as we welcome the Righteous Jim Jones for 2 shows on Sunday 12th January. Expanding on the 1950s rock n roll influences of his previous band, The Jim Jones Revue, Jim Jones and the Righteous Mind have a darker, more cinematic sound incorporating psychedelia, country, blues and gospel, garnering favourable comparisons to Nick Cave and the Bad Seeds, Tom Waits and The Stooges.
Matinee support from Avant-Garde-Blues-Outlaw Bone Zeno whilsy London psyche-punk mavericks DaemoniK Fonce feature ex members of Ten Benson, The Rumblestrips & Tits of Death for the evening show.
Tickets: http://thelexington.co.uk/bandsnbooze/wp-admin/post-new.php
---
The Line of Best Fit Five Day Forecast
Monday 13th to Friday 17th January
Purveyors of good taste, The Line of Best Fit, bring you a week of the best bands for 2020 including some familiar faces to the Lexington as well as some making their debut with us, it looks set to be their best Forecast yet!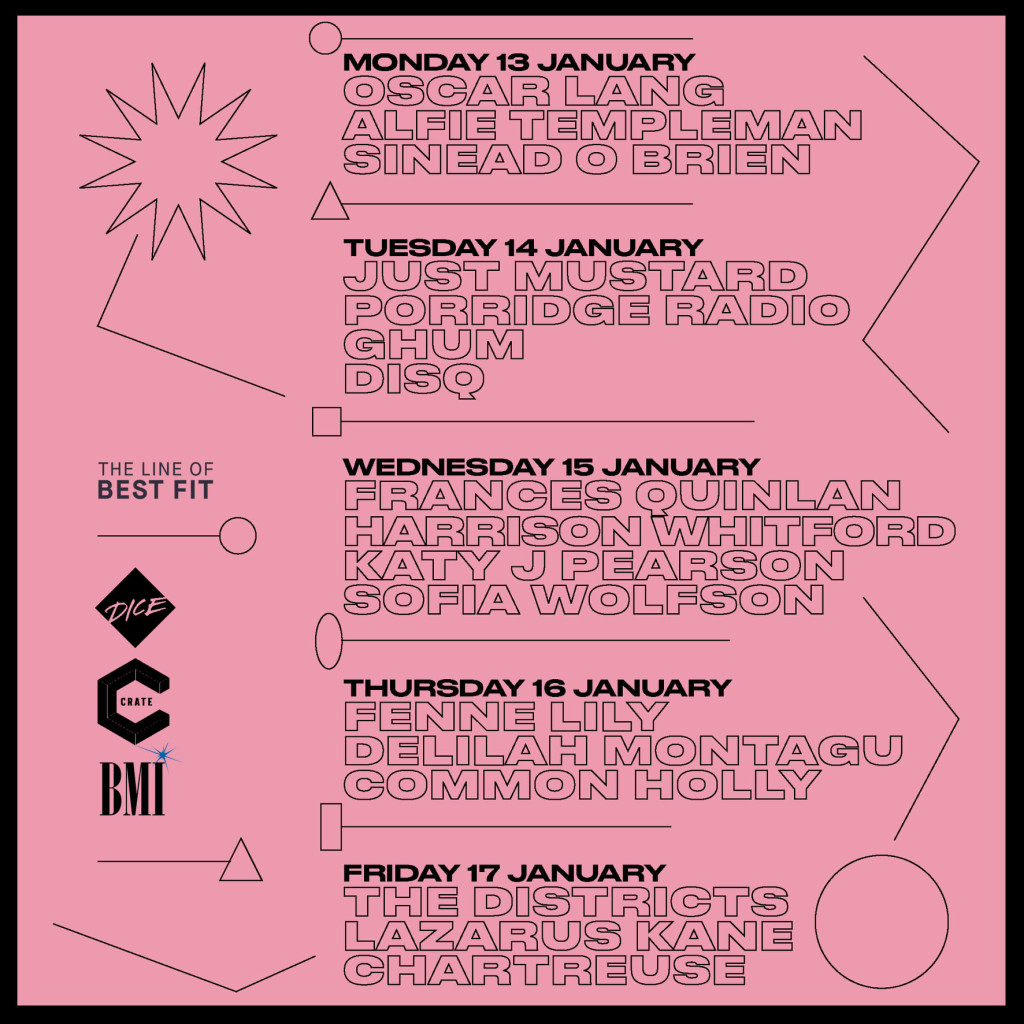 Tickets: link.dice.fm/tlobf-five-day-forecast-2020
---
Slaugheter Beach, Dog
Saturday 18th January
Across the previous Slaughter Beach, Dog albums, Jake Ewald has crafted a specific sound. It's one that incorporates pop music, indie-rock, folk, and just the faintest dash of punk in order to create something that's accessible but still artistically rich. With Safe And Also No Fear, the band's third album, Ewald has abandoned his usual practices in service of creating something that, try as one might, isn't so easy to describe.
Tickets: https://rockfeedback.seetickets.com/event/slaughter-beach-dog/the-lexington/1444509
---
Sam Isaac
Sunday 19th January
Alcopop Records' Sam Isaac returns for a one off show in London to celebrate the tenth year anniversary of his debut album Bears with a full band featuring many of the familiar faces who toured with him back in the day. Its been a long time, and we're very excited…
Tickets: https://dice.fm/event/l3apw-sam-isaac-bears-10-year-anniversary-show-19th-jan-the-lexington-london-tickets
---
Italia 90
+ Scrounge + Es
Thursday 23rd January
Evoking the sound of punk and early post-punk records Italia 90 step into the fray looking and sounding like Sham 69's if the kids are united with a biting 21st century edge. They play Fierce Panda's Pandamonium festival at The Lexington following releases on the label and a limited edition cassette on Permanent Creeps.
Tickets: https://www.wegottickets.com/event/488387
---
Giuda
Friday 24th January + Saturday 26th January
Friday supports: Hard Wax + Hygeine
Saturday support: The Speedways + Bruno & The Outrageous Methods Of Presentation
Giuda are a five-piece band from Rome, Italy, that play an air-punching mix of anthemic '70s rock hooks delivered with the brutal force of early UK punk, all interpreted in a contemporary and original way with relevance for today's discerning listener. Fuelled by the sounds of bands like Slade, Glitter Band, Hector, Third World War and Slaughter & The Dogs, Giuda offer fresh, powerful rock and roll with attitude in spades.
Tickets: https://www.wegottickets.com/f/12149
---
Extradition Order launch American Prometheus
+ David Cronenberg's Wife + The Awkward Silences + Ed Seed (Stats)
Sunday 26th January
Extradition Order are launching their next album on 26 January at the Lexington in Islington. Playing the album in full, American Prometheus tells the story of the life of theoretical physicist J Robert Oppenheimer through the medium of Northern Soul music. Covering the rise of the right, sexual affairs, academic breakthroughs and nuclear holocausts, this is the second of Extradition Order's American Century trilogy.
It is dedicated to the life, energy and love of Nicholas Boardman whose voice and bass playing makes this record work and who is missed. This will serve as both a memorial show for the life of Nick Boardman and the launch of his final album with all profits from the show and record going to the hospice that looked after him at the end.
Tickets: https://www.wegottickets.com/event/486594
---
Jaakko Eino Kalevi
Tuesday 28th January
The Finnish psych-pop voyager, plays here on 28th January in support of his latest album filled with heavy funk, chakra-aligning electro and rococo space balladry.
Tickets: https://www.ticketweb.uk/event/jaakko-eino-kalevi-the-lexington-tickets/10152985
---