'Tis the season for late nights, strong drinks and good times! Check out all the best bands coming up this December and don't forget that we'll be open til 3am on weeknights and 4am weekends for all the late night fun after the gig is done! Check out our Lexmas festivities here.
20% off award winning burgers courtesy of Cut + Grind with advance tickets!
---
Dream Themes Xmas Gig + Thamesmeerd Christmas Nativity 2019
Sunday 1st December
It's our fantastic TV Themes Christmas Party filled with festive fun and shenanigans and our greatest party tv theme hits – Plus there will be a very exciting NATIVITY.. with a few friends… and some of your favourite songs as you've never heard them before!
Tickets: https://www.wegottickets.com/event/484844
---
Sarah Klang
Tuesday 3rd December
Now concerning the album, it is a collection of ten songs that was produced by Kevin Andersson and was released under the Pangur Records label. With a sound considerably similar to American country and pop, Klang's songs go in front of the bunch especially because of her deep and powerful voice that resembles the greatest female vocalists of the industry right now. Her who claims being "the saddest girl in Sweden" presents us tracks that are, indeed, melancholic and contemplative for the most part. Some also are comfortable and minimalist ballads featuring an incomparable voice that assuredly marks the minds. A must listen artist with a very promising future – I Love Sweden
Tickets: https://rockfeedback.seetickets.com/event/sarah-klang/the-lexington/1390502
---
Meggie Brown
Wednesday 4th December
Crafting her own spiky DIY messages, her paranoid take on post-punk's skeletal chassis dives into personal realms…. produced by Franz Ferdinand singer Alex Kapranos at Edwyn Collins' studio in the Scottish Highlands it's a taut, impeccably pieced together burst of noise, it's done and dusted in a little more than two minutes – prime length for a seven inch, then.

Tickets: http://www.wegottickets.com/event/483371
---
BBC Introducing
Hak Baker + Olivia Dean + Aaron Smith
BBC Music Introducing are back at The Lexington for another showcase of breaking UK talent, catch three up and comers in the intimacy of our 200 cap venue before they're playing stadiums.
Hak Baker
Hak Baker is a documentarian as much as he is a songwriter. Whether chronicling his own experiences or those of the people around him, his music offers an indispensable insight into the struggles of the working classes in 2019. The injustices, the hustle, the heartache: it's all there to be discovered on 'Babylon', a 12-track mixtape which the 29-year-old singer showcasing his vast creative vision and astonishingly unadorned vocal talents.
Olivia Dean
Born and raised in Walthamstow, Olivia Dean caught the eye of London label AMF after her first ever song 'Reason to Stay' which she uploaded to Spotify and Soundcloud quickly gained hundreds of thousands of streams. Dean has been performing since she was 8 year's old, and her passion for music has taken her from a gospel choir, to busking in the streets, to the acclaimed BRIT school. Every song is a story, and she's ready to share them all with you this December.
Aaron Smith
Aaron Smith's music sounds so bucolic, so natural, that it encourages you to think of something beautiful, almost pastoral. The reality, though, is a little harsher. He grew up in the small Scottish town of Polmont, a kind of nowhere zone 50 miles outside of Glasgow
SOLD OUT
---
Psychotic Monks
+ Cannibal Animal + Meat
Friday 6th December
After absolutely filling The Shacklewell Arms to the brim, to the point where some unlucky souls couldn't enter. The Psychotic Monks are back for a big heavy wallop of a headline show at The Lexington! Get ready for the rock tremors of The Psychotic Monks, these four French musicians spew out saturated riffs and chaotic compositions. Stuck between a black psychedelism, materialised by waves of synths and heavy riffs reminiscent of some groups of the industrial electro scene. In a noise as foggy as disturbing. Their first album, Silence Slowly And Madly Shines, is a gem of unhealthy garage-rock and neo-psychadelic goodness.
Tickets: https://dice.fm/partner/saxon-zine/event/8an22-the-psychotic-monks-6th-dec-the-lexington-london-tickets?_branch_match_id=329703936153659397
---
Black Moth
Saturday 7th December
The time has come for the Black Moth family to hang up our wings. After delivering three albums we feel we have for now, said what we came here to say. It has been a privilege to play for you and share those incredible live experiences, connecting with you in that special way.
SOLD OUT
---
British Sea Power
Monday 9th December
An Evening of Experimental art and heart warming Entertainment.
BSP3: Yan, Noble and Sumner of acclaimed band British Sea Power performing in a semi acoustic and electronic formulation as a trio.
Special Guests. To be announced
Francesca Beard ( Performance poet and writer)
Bo Ningen Bingo (members of Psychedelic Rock outfit Bo Ningen hosting musical psychedelic Bingo Game ! )
SOLD OUT
---
Andrew Combs
+ Kirby Brown
Tuesday 10th December
Andrew Combs is a singer and songwriter whose work bridges the freedom and possibility of his visual art with the influence of classic writing and storytelling. On his new album, Ideal Man, Combs worked with producer/engineer Sam Cohen (Kevin Morby, Benjamin Booker) to achieve a more raw, direct sound. The collection was captured live in Cohen's Brooklyn studio, with compact, muscular arrangements fueled by taut, elastic grooves, and also featuring Combs' longtime collaborators, drummer Dom Billet and guitarist/keyboardist/bassist Jerry Bernhardt. While Combs may be best known as a singer/songwriter in the classic 1970s Laurel Canyon sense of the term, he proves the true versatility of his work here, often setting his acoustic aside in favor of atmospheric synthesizers and distorted electric guitars. The songwriting for Ideal Man was partly inspired by Combs' recent fascination with painting. Combs started painting when his wife was pregnant. (They welcomed a daughter in 2017.) "It really changed the way that I write songs," he reflects. "When I paint, I might start with a very abstract idea or maybe even just a feeling, but from there I'll paint and scrape and paint and erase and keep on painting until something starts to take shape. I just let nature play out."
Tickets: https://www.alttickets.com/andrew-combs-tickets?utm_source=facebook&utm_medium=social_media&utm_campaign=2019-06-19-AndrewCombs-London-FBEvent
---
Wu-Lu
Rago Foot + Sam Akpro
Wednesday 11th December
South London's Wu-Lu is refreshingly straddling two disparate worlds of music. After two years spent experimenting with the off-kilter brilliance of J Dilla's hip hop with ounces of lo-fi, psychedelic guitar to great effect, the multi-hyphenate artist is now comfortable in his own lane.
Music runs in his veins. Raised in a creative environment built by a professional contemporary dancing mother and afro-jazz trumpeter, his run-ins with music were early and frequent. His 2015 debut mixtape, GINGA — featuring Stones Throw's Mndsgn and Andrew Ashong — was a refreshing narration of the mixed race experience in London.
The multi-instrumentalist's highly-approved N.A.I.S. EP followed in a similar vein of cross-genre brilliance as showcased on his impressive entry for FACT Magazine's infamous Against The Clock series. His most recent release, the S.U.F.O.S. (Save Us From Ourselves) EP, saw Wu-Lu collaborate with long-term friends, Binisa Bonner, Kwake Bass, Nubya Garcia, Eun, Demae Wodu, and Morgan Simpson (black midi's drummer).
Tickets: https://birdonthewire.seetickets.com/event/wu-lu/the-lexington/1448589
---
Holly Golightly
Thursday 12th December
Holly Golightly and her full band return to the Lexington for what must by now be classified as an Xmas tradition!
Tickets: https://www.wegottickets.com/event/482560
***ELECTION NIGHT 2019 – COVERAGE OVER BOTH FLOORS***
---
The Number Ones
+ The Ranomes + Chubby And The Gang
THE NUMBER ONES
Dublin's finest coming over for a one off gig! I would say a new record is around the corner, but we all know that's wishful thinking.
THE RANOMES
Members of Sauna Youth and Parish will be knocking out all of your favourite hits for the first time in a long time!
CHUBBY AND THE GANG
Comprised of three gents from Gutter Knife and a one Chubby Charles, The Gang do high energy rock and roll that embraces all the right aspects of the past and present in punk. LP coming out in the new year!
Tickets: https://www.wegottickets.com/event/485299
---
Pictish Trail
+ Callum Easter + Savage Mansion + Clémentine March
Sunday 15th December
We're sledding down from Eigg, and throwing a Lost Map Xmas bash down in London, on Sunday 15th December 2019 – a whole afternoon-into-evening of live music from the label, and DJs.
Tickets: https://www.lostmap.com/tickets/lost-map-lexington
---
Outlya
Monday 16th December
OUTLYA are a three-piece indie-pop band who caught our attention last year with their brilliant EP Volcano – they make super-catchy, arena-sized pop that recalls the likes of Coldplay, Bastille and Imagine Dragons. – The Independent
Tickets: https://tix.to/Outlya
---
The Wave Pictures Christmas Spectacular
Tuesday 17th December
Think Christmas… Santa, snow and mince pies. But something is missing… The Wave Pictures! We'll be here to make your festive season complete with The Wave Pictures Spectacular Christmas Bonanza!!! Imagine a stocking full of rock and roll… unwrapping a present of grooving tunes… all to the sound of festive guitars… that is what you can expect when you come to The Wave Pictures Christmas Bonanza!!!
Early and late shows!
Tickets: https://www.wegottickets.com/event/487835
---
Big Scary Monsters Christmas Party in Aid of Shelter
Big Scary Monsters is throwing a Christmas party in aid of Shelter and you're invited! Join us for a night of festive fun at The Lexington to celebrate a wonderful 2019. Special guests and other festive treats will be announced nearer the time but suffice to say it all be awesome!
Tickets: https://www.bsmrocks.com/tickets/16026-big-scary-monsters-xmas-party?fbclid=IwAR0oWcvdeQdMsp6PYY3k8SJl3vx1jTeF9zK01tvS53aiAgUq1e1rXz_3F5Q
---
The School Christmas Party
The Catenary Wires (full band) + Simon Love & The Old Romantics + Rosehip Teahouse + Tugboat Captain + Piney Gir + Alice Hubble + Panic Pocket + DJ Kitschmas (Dandelion Radio)
Indie Pop all-dayer before we shut the doors for our Christmas break! Followed by our monthly 80s night, Age of Consent!
Tickets: https://www.seetickets.com/event/the-school-christmas-party/the-lexington/1455383
---
The Fallen Women
Saturday 28th December
Come and do your best Mark E Smith impress/watch a bunch of people do their best Mark E Smith impressions ad the Fallen Women blast their way through the deepest cuts of the Fall's back catalog.
Tickets: https://www.wegottickets.com/event/485935
---
NEW YEAR'S EVE WITH WHITE HEAT
Taking over both floors of The Lexington we'll be playing the best indie, new wave, post-punk, leftfield-pop, new romantic and 80s bangers as well as some NYE worthy party starters that have been lingering in our ears from the last few years!
This party has sold out every year for this last decade so you're strongly advised to buy advance tickets early!
There will be smoke, lazers, glitter canons, waves of broken resolutions and vodka drenched indie disco bangers all night long!
Expect to hear party tunes alongside the usual Tame Impala // Maccabees // Arctic Monkeys // Talking Heads // Joy Division // LCD Soundsystem // Hot Chip // The Strokes // MØ // Warpaint // Modest Mouse // Blur // Fleetwood Mac // Blossoms // New Order // Nirvana // Iggy Pop // The Cure // Daft Punk // Justice // The Postal Service // Soft Cell // The Clash // The Rapture // Eurythmics // Bowie // DEVO // Mystery Jets // Prince // White Stripes and anything else leftfield and fun!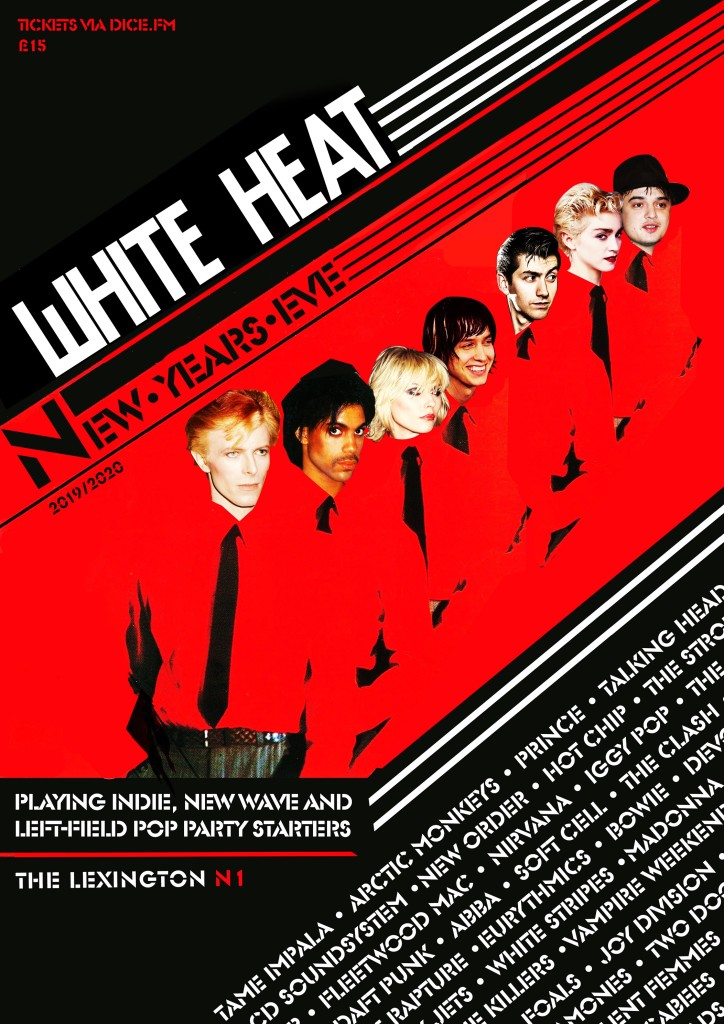 Tickets: https://dice.fm/partner/white-heat/event/l38pw-white-heat-new-years-eve-party-2020-31st-dec-the-lexington-london-tickets?_branch_match_id=617008680482345397
---
---